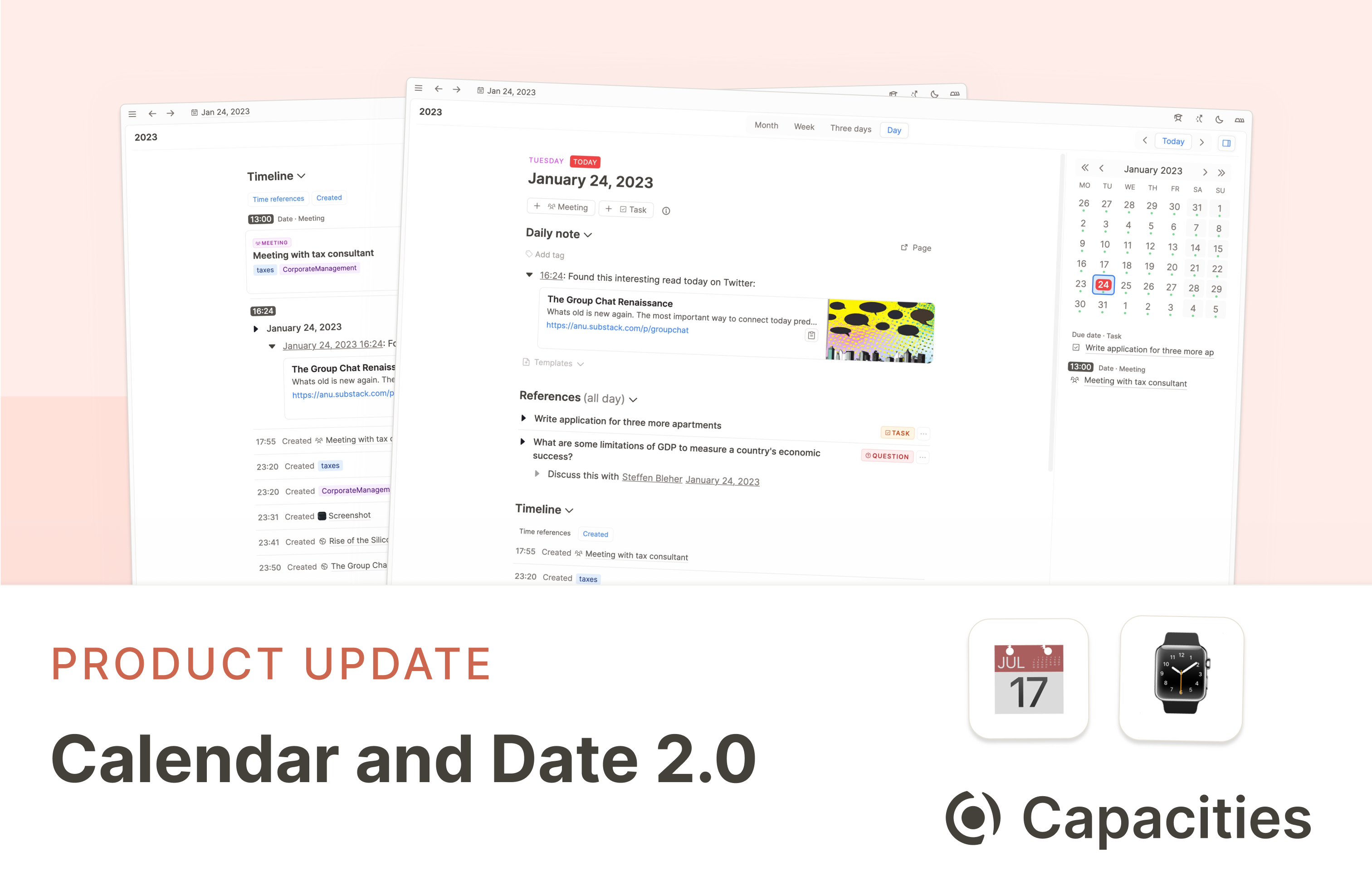 Today we're launching the first major update of 2023: Calendar and Dates 2.0. We are one step closer to keeping up with our promise of making time the third fundamental pillar of Capacities.
Under the hood, we've completely reworked how dates are stored throughout the app, which gives us much more flexibility and allows us to further expand date-related functionalities in the future (such as synching with other calendar tools, adding reminders, etc.).
Reworked daily view for the Calendar
Most new things that you'll see today are present on the daily view of the Calendar.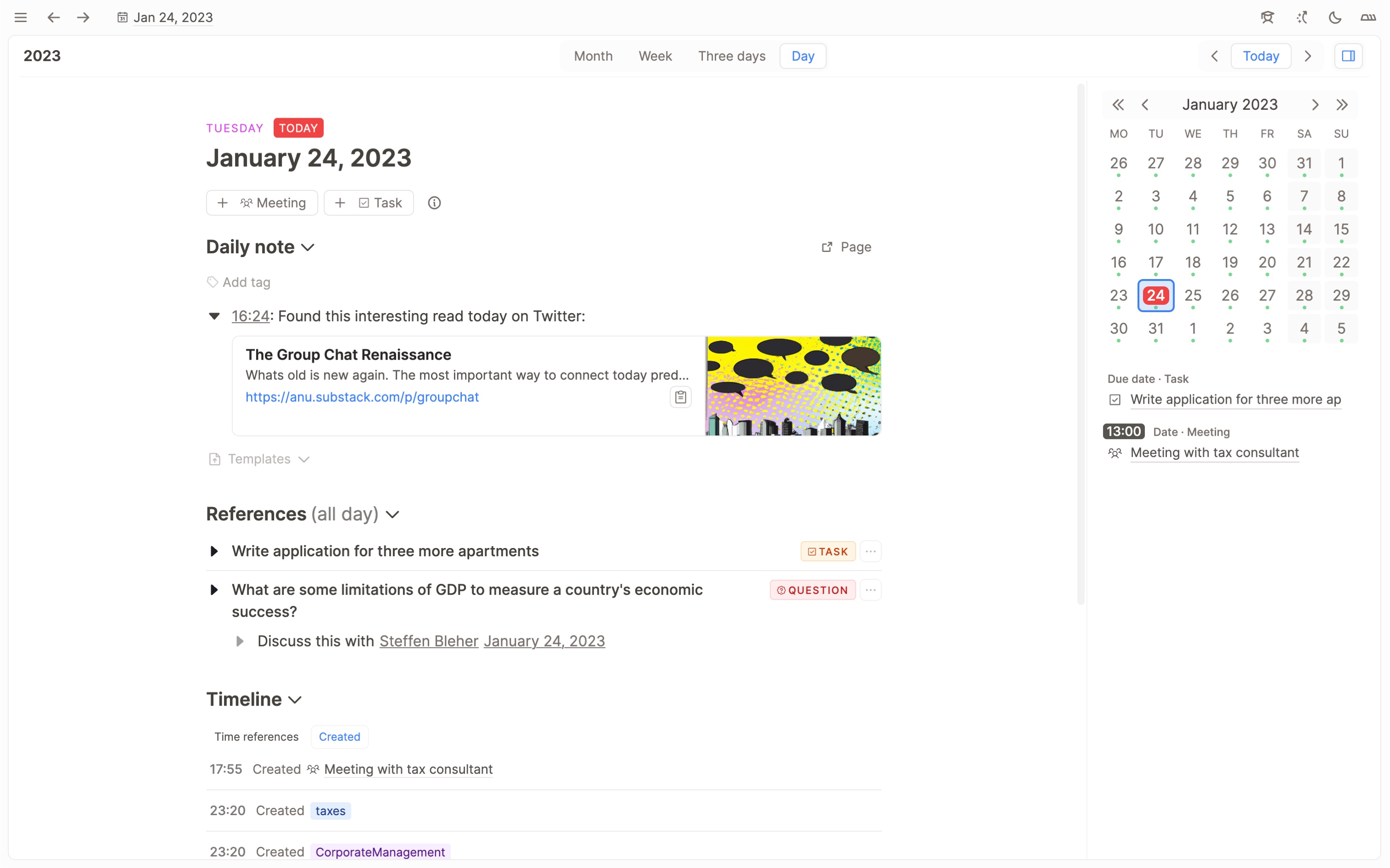 At the top, just below the date, you'll see quick actions to create objects with their date set to this day. All objects with a date property are shown here.
Below is a section for the daily note of that day. You can close it if you don't use daily notes.
The next section shows all references of that day, including objects with properties to that day and mentions of the day in your writing. If a time is specified on a date reference, it will be part of the timeline (more below).
On large screens, you also have access to the calendar sidebar on the right. This sidebar shows a small calendar of the current month, with small green dots indicating the presence of a daily note. You can click on any day to jump to that day. Below is a timeline summary of all objects with a time and a date property set to this day.
New timeline section to visualize everything that happened throughout the day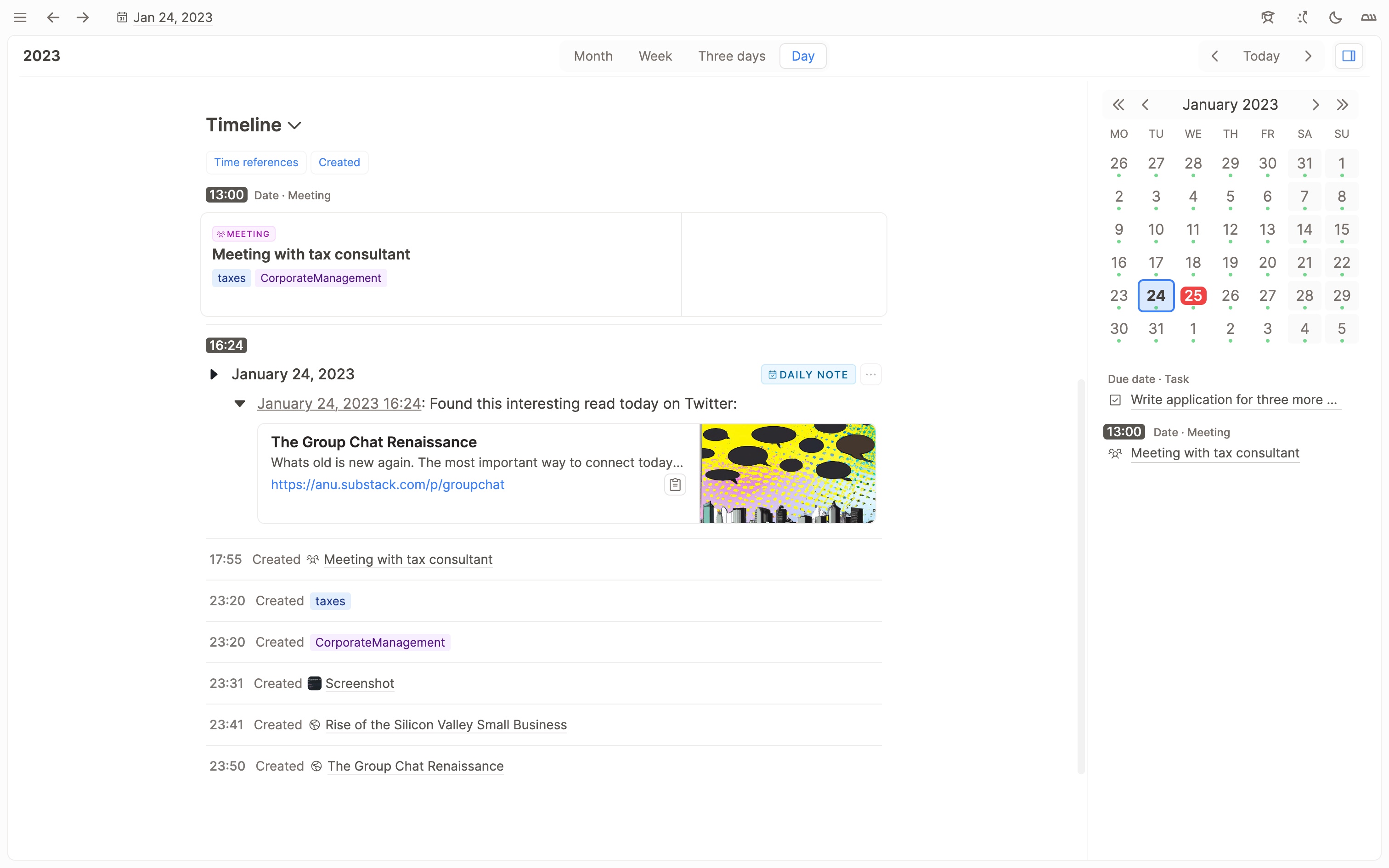 The timeline is a new section that visualizes everything that happened throughout the day. Currently, this includes the mentioning of a specific time in a link or a date property and the creation of new objects. You can set filters to only show the categories you're interested in.
You will notice that we did not update the "Three days", "Week", and "Month" views in the Calendar. We first want to see how the new functionalities on the "Day" view are received and how they develop in the next couple of weeks before we update the other views. Going forward, we will further develop them and add functionalities that are adapted to their specific layout.
The new architecture for dates in Capacities allows us to add more features around dates and the Calendar. One of the next big improvements will be the integration of external calendars, such as Google Calendar, to get an overview of all your events and planning while working with Capacities.
💡 Info: You might not see some of your date links in the timeline yet. This is because we are still working on migrating your data to the new format. If you have any questions or issues, please feel free to contact us.
Objective note-taking
We are currently focusing our product communication on the concept of objects and recently updated our landing page accordingly (capacities.io). We are experimenting with the term "objective note-taking" to give a name to thinking of your notes as interconnected objects. We think this is a more intuitive way of thinking about digital information that can help us make sense of our complex environments.
Daily notes finally get their own database
Since the Calendar now shows much more than just the daily note, we've decided to give them their own database. In your daily notes database, you can now view all your daily notes in various views, as well as sort and filter them. Note that collections are not supported for daily notes. There are several reasons for this, including technical ones, but we also think that this feature is not really needed for daily notes. Tagging daily notes should be enough—and with the addition of queries in one of our next releases, you won't miss collections for daily notes at all.
Improvements and bug fixes
On top of the above, we worked a lot on improving the overall experience.
Better zoom persistence: On the desktop app, your zoom level should now be persisted and should not go back to 100 % randomly anymore. (Jan 17, 2023)

Persisted PDF zoom level: If you zoom in on a PDF, that zoom level will be used when you open the pdf again. (Jan 17, 2023)

Nes icons: We've added some new icons to the icon picker that were requested by a user (tick, double-tick, question mark in a circle). (Jan 25, 2023)

More syncing fixes: We added some more fixes for syncing issues. Please report to this ticket if you are still having issues. (Jan 11, 2023)

Fixed: The WhatsApp integration was not working reliably anymore. It seems like it was a problem on Meta's side. We are monitoring it, but right now, it's working again. You can also use Telegram as an alternative. (Jan 10, 2023)

Improved: Better cursor navigation. Navigating the cursor using the arrow keys has been vastly improved.

Improved: Some aspects of text composition and better support for different language input methods.

Improved: Interactions around math block (shortcuts to insert block above and below, navigation via arrow keys).

Improved: Better display of low-resolution images. Low-resolution images are not scaled above their maximum size anymore.

Improved: Cleaner arrangement of elements in the left sidebar.

Changed: Moved button for settings to bottom left and changed icon from "Wrench" to "Gear"

Improved: In week view: align daily notes vertically, not horizontally. Since all seven daily notes can almost never be shown next to each other, a vertical layout seems more suitable for this view.

Improved: Better visible toggle states of "Pinned" and "Objects" sections in the left sidebar.
Create a studio for
your

mind.