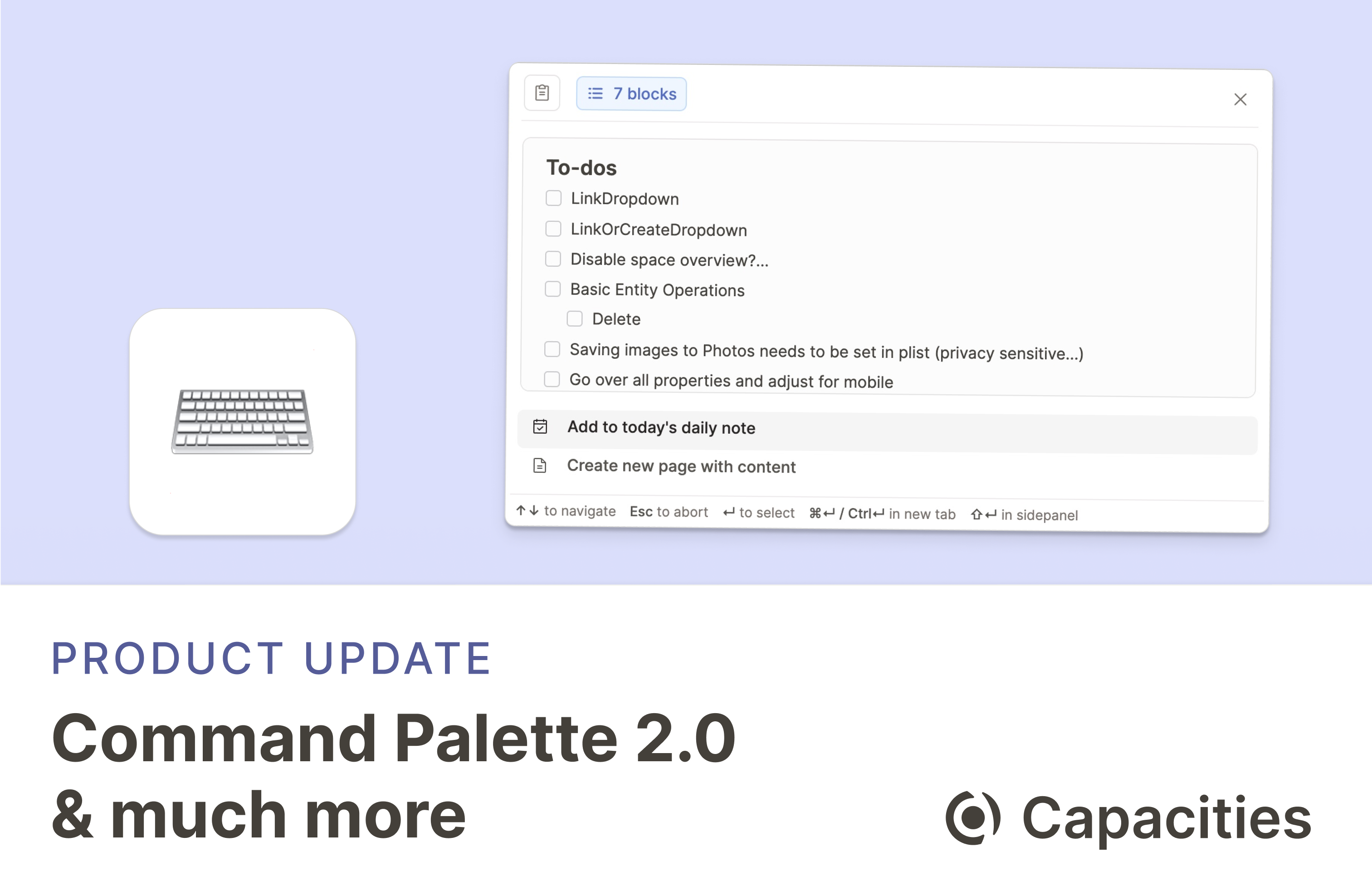 Command Palette 2.0
We reworked how global search and the command palette are working. It's simplified and more powerful. Let's dive in!
Unified and simpler interface: Content search and command palette are now combined into one interface, accessible via Cmd / Ctrl + P. Actions always appear at the top. You can read about all possible actions here.

More filter options: You can now also exclude certain types. If you for example don't want to search for images you can just type /images and select "Exclude images". This can also be combined with all other filters.

Paste any content to the command palette: When your command palette is open, you can paste any kind of content and add it to your space. For example, you can:

Paste text to add it to your daily note or create a page from it

Paste a web link to save it to your web link (or image) database

Paste files to add them to the corresponding databases

if all files are of the same type you can also directly add them to a collection

if you're pasting a markdown or text file you can convert it into a page automatically
Settings for property visibility
Having many properties on a page can make it hard to focus on the content. To make that easier, we've added several options to customize the visibility of properties.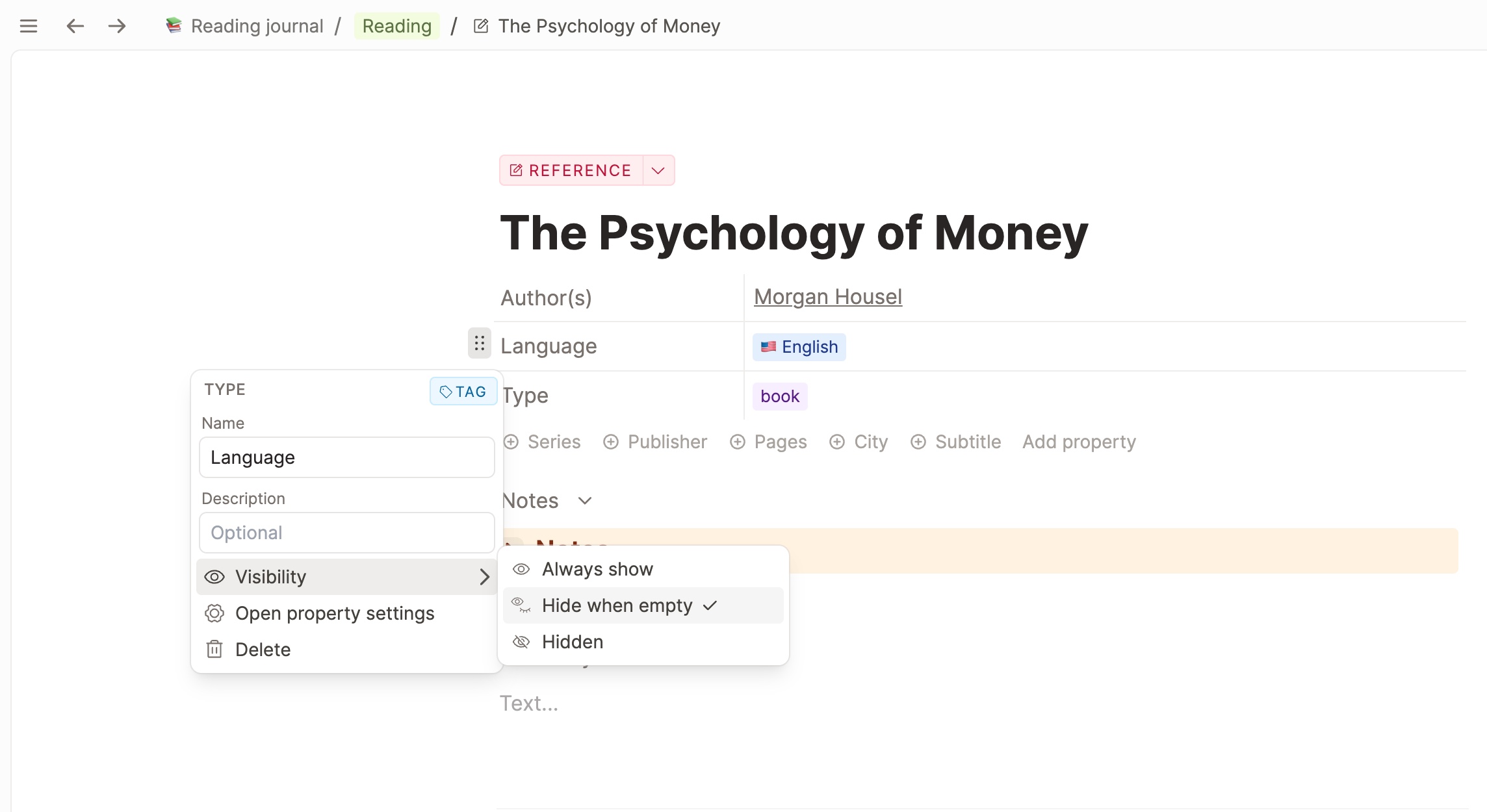 You can hide certain properties completely, which will put them into a separate section name "Hidden" which you can toggle. Only opening this toggle will give you a glance at these properties.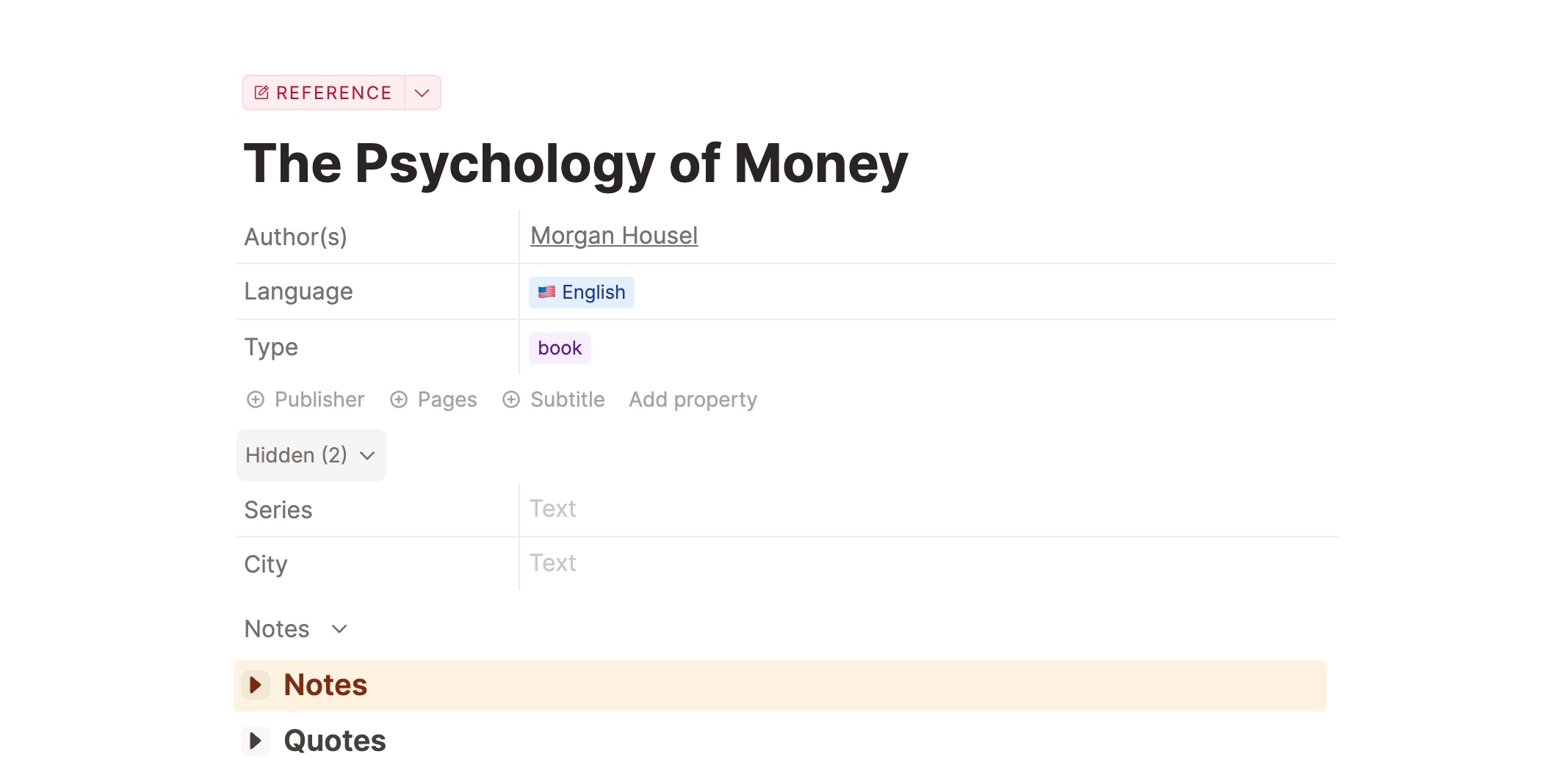 In addition, we've added the option "Hide when empty". This is especially useful if you have many properties but also want flexibility when to actually use them. Properties with this option will only be shown as a small inline button when they are empty and will be shown once you click the button and add content. This way, you can keep the page clean and only show the properties that are actually used.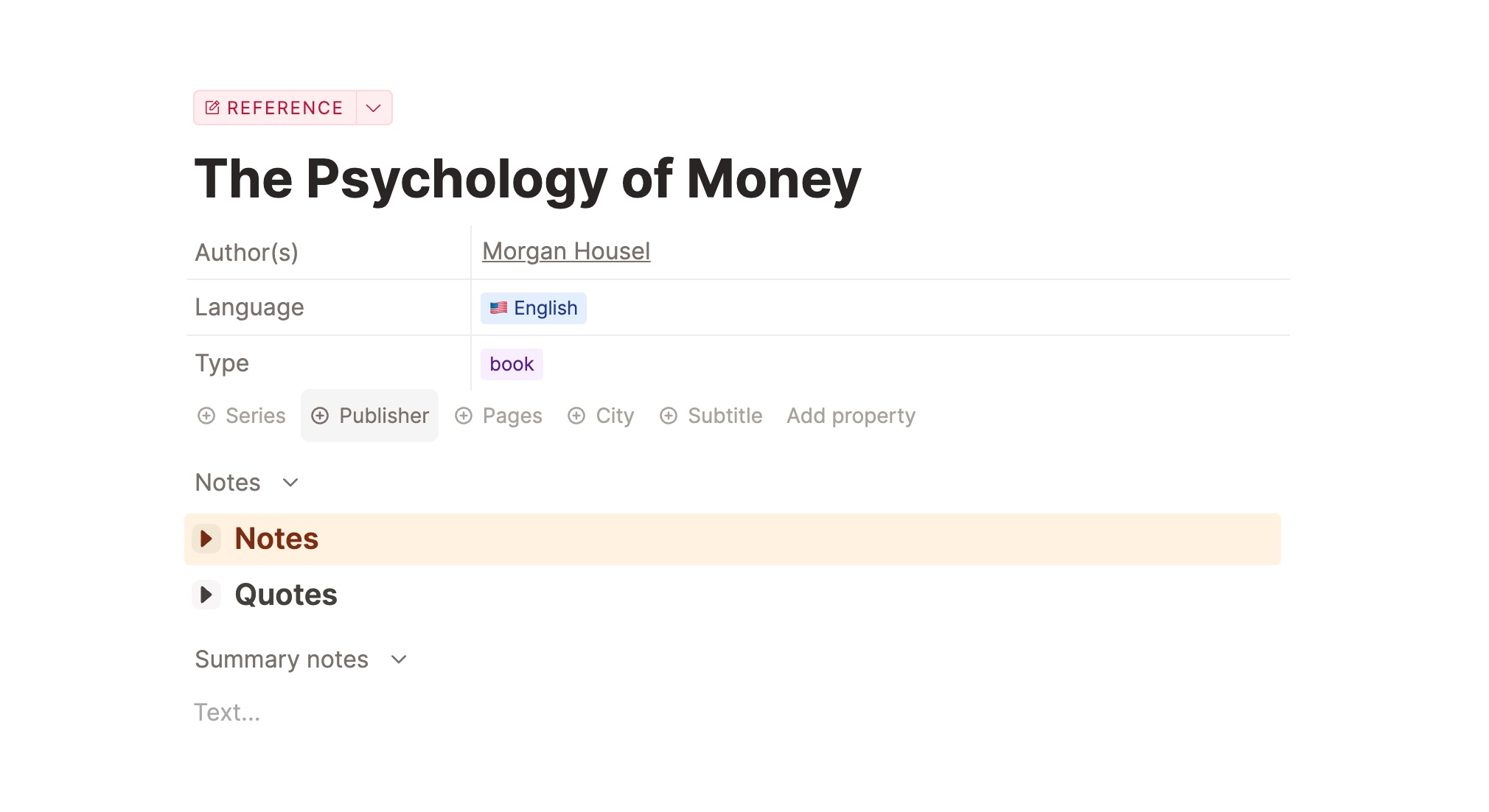 Deep links v1
The Desktop app now supports deep links. Under "Share" or by simply using Cmd + Ctrl + L on Mac or Ctrl + Win + L on Windows, you can now copy a deep link of the current page. You can use this link in any other app to open a page in Capacities.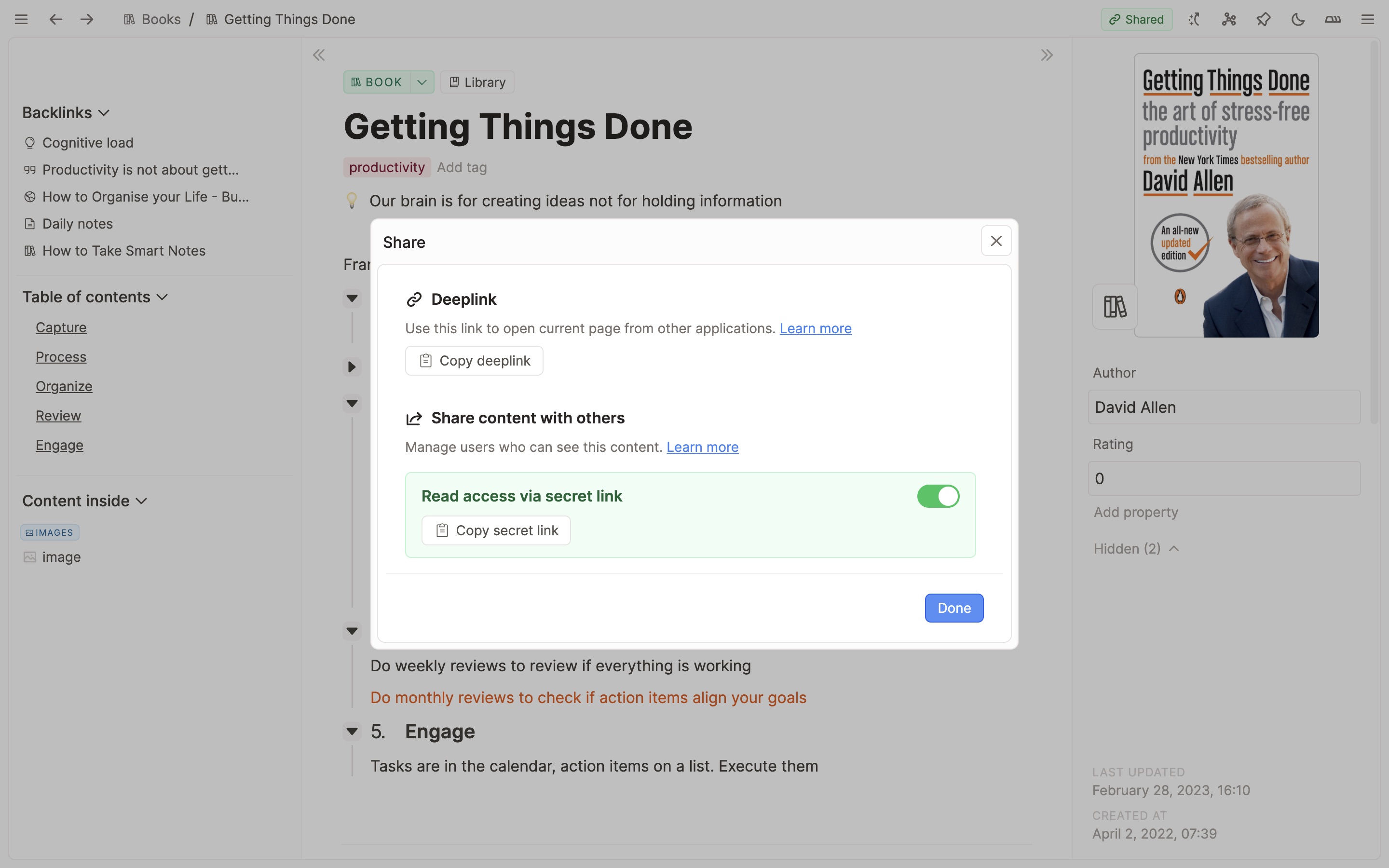 We plan to also support deep links from other apps in Capacities in the future.
Request for comments: Queries in Capacities
We are currently working on a new feature that will allow you to create queries in Capacities. We just shared a first proposal in our community. If you want to contribute to the discussion, you can do this here.
Small features and improvements
Option to use wide cover image in default view of custom types. In some cases, you might also want to use a wide cover image for your custom type.

You can now simply click the expanding/narrowing arrows in the menu to toggle the cover image mode.

More date formatting options: Under "Settings > Date & Time" you can now better define your date formatting preferences: ISO8601 can be selected, and you can adjust the localized date settings to your needs.

More and better options to create and edit templates: You can now apply templates to content even when you already added properties. Templates can be applied from the right sidebar under "Actions". On top, you can edit and create templates right from the space overview by clicking on the "…" menu next to your content type.

Experimental search result ordering for linking: We fine tuned the search result order when using "@" to link content. You now see direct matches as top results, then an option to create new content based on the inserted title, and then all other results with lower priority matches.

Sort daily notes by date: You can now sort daily notes by date by just sorting them based on their title.

Changed UI to add new blocks: Over time, the two plus buttons (one above, one below) could become annoying. To make the UI cleaner and calmer, we reduced it to just one plus button next to the block handle. Clicking it will insert a block below. Clicking it by holding shift will insert a block above.

Vertical lines to visualize the hierarchy of nested toggles: For a better outliner experience, we've added vertical lines to visualize the hierarchy of nested toggles. This is especially useful when you have a deeply nested document and want to get a better overview.

Small but neat addition: A backlink counter in the backlinks section.

Better access to adding new objects to multi-select properties: In the cell of object properties, it could be difficult to open the dropdown to edit linked content, especially if there were many linked objects with long titles already present. We've now added a small caret button that lets you access the dropdown menu in any scenario.
Additional minor improvements and fixes
Improved: UI and explanation improvements for templates (e.g. it's not possible to change the structure of properties (add/delete/rearrange) inside of a template as these changes would apply to all objects, and not just the template. Reworked documentation article for easier understanding and more clarity around templates.

Fixed: Sync Issues & broken links to blocks.

Fixed: Math block accessibility when clicking.

Fixed: Bug: Paste without formatting (Ctrl+Shift+V) doesn't work.

Improved: Please improve using the keyboard (arrow keys) to move through the text.

Fixed: Layout bug with too narrow width of dropdown items.

Improved: Display of error states of images.

Improved: Remove hierarchy/heading when indenting a text block.

Fixed: Allow cut, copy, and paste without formatting on Windows.

Fixed: Properly handle paste from Microsoft Powerpoint.

Improved: Make side panel toggles (left side and right side) sticky in encyclopedia view.

Fixed: Make the "Learn more" link clickable in the templates menu.

Fixed: Enable spellcheck again.

Fixed: Bug in MathEdit.

Fixed: Scroll to an item after the search works again.
Create a studio for
your

mind.
Stay updated
Subscribe to our newsletter so you won't miss out. We will send you updates via email about Capacities and the space of personal knowledge management.
We will use your email address for sending you our newsletter. You can change your mind at any time by clicking the unsubscribe link in the footer of any email you receive from us. For more information see our
Privacy Statement.