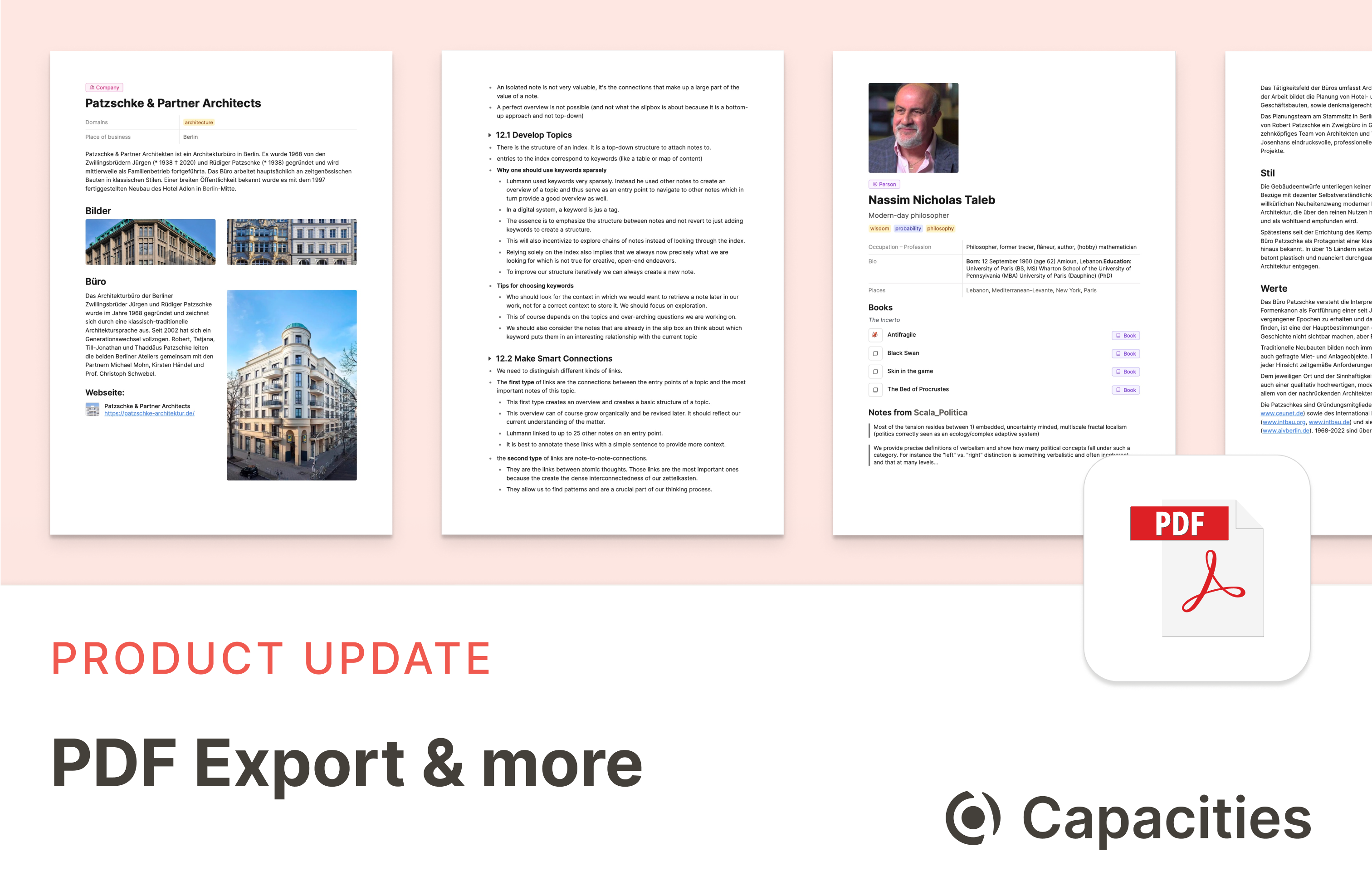 The basics of Capacities are becoming more mature. We are excited to share this update with you. Let's dive in!
PDF Export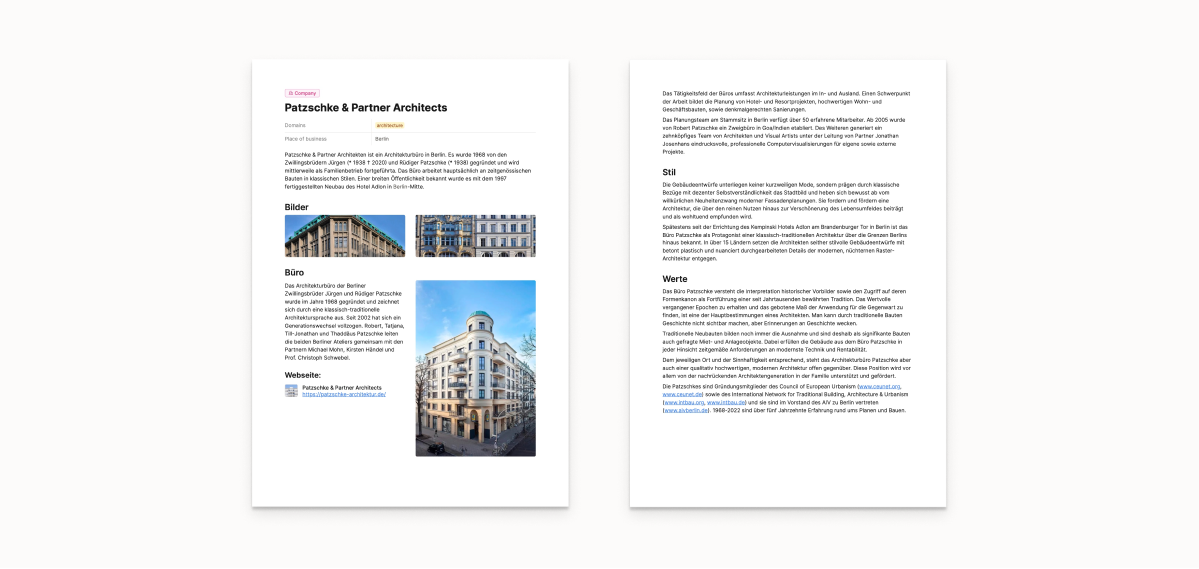 Exporting your content to share it with others is important, and PDF is still one of the most versatile formats. Today we are adding a beautiful PDF export to Capacities!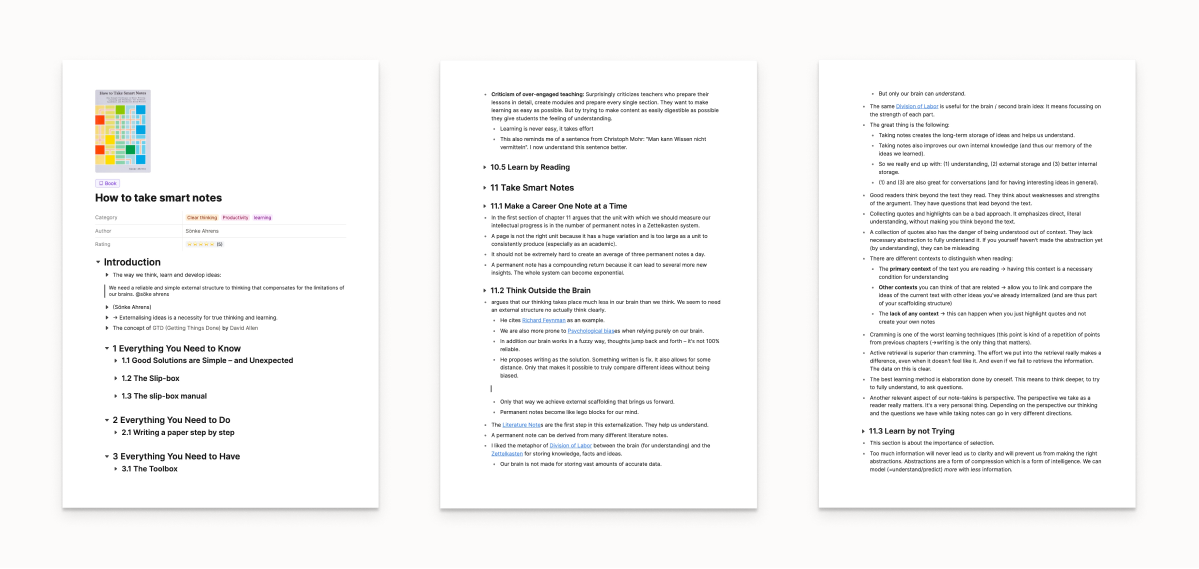 We want the export to "just work" with one click. Nevertheless, there are a few things you can customize in the export menu: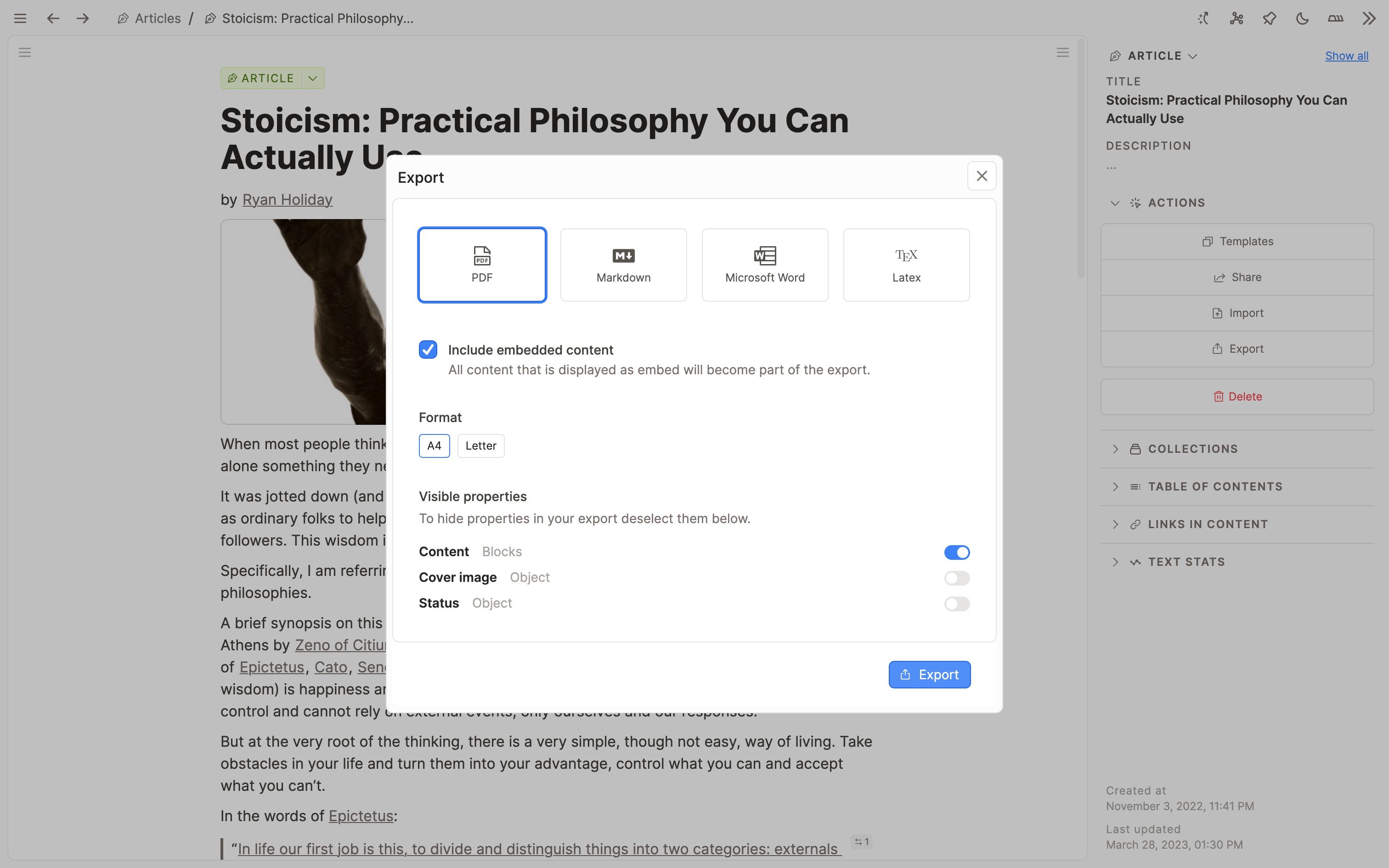 Exclude properties you don't want to show on the PDF: You can toggle each property of a content to not be included in the exported PDF.

Switch between A4 and Letter formats.

Set whether the content of embedded objects should be fully rendered in the PDF: This can be super useful if you want to export the content of several notes as one single PDF. Simply embed them inside one page and set this export option.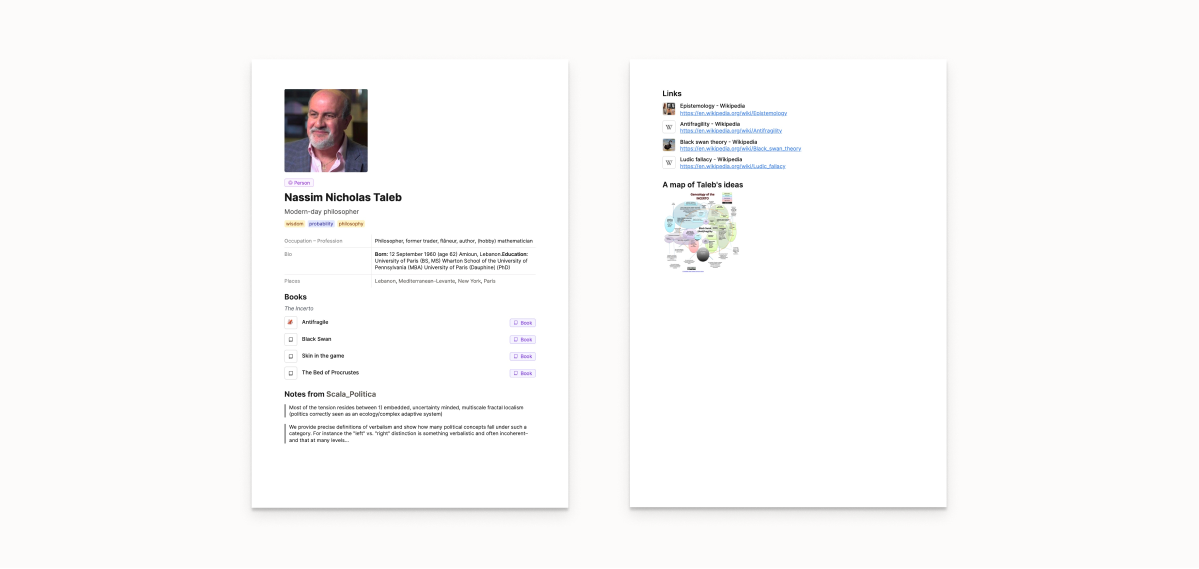 Limitations and some notes: There are some things that are not supported in PDF export yet.
Embedded tags and collections are not rendered, just the title of the tag or collection is shown.

Complex multi-column layouts will sometimes not look great on PDFs due to the limited space and tighter constraints. Keep the layout simple, and think about the form factor of a PDF when exporting.

Tweets are currently not rendered in the PDF export. Instead, the first couple of words and a link to Twitter are shown.
If you have more ideas on how to improve and extend the PDF export capabilities and cover more use cases, feel free to share your ideas in the comments of this ticket.
Early access to the mobile app for Believers
All Capacities Believers got access to the beta phase of the Capacities mobile app. We continue to improve the app, and it will then be available to everybody. The timeline for the release is not clear yet.
If you want to get early access, become a believer. It's the best way to support Capacities.
If the Believer price is too high in your region, we'd appreciate it if you could fill out our pricing survey so we can get a better picture and create fair pricing for everybody.
Stability and syncing improvements
We reworked the whole syncing infrastructure of Capacities. It's much more robust and reliable now.
Syncing content across devices is now more stable.

Capacities reliably checks for updates once you open a page. This should create a better experience when using the mobile app and the desktop app interchangeably.

Better sync of daily notes between devices.

Sometimes daily notes are not consistent across devices. The behavior should be much better now. Leaving the calendar and coming back should resolve all inconsistencies within a few seconds.

Synchronization errors are much less likely to occur.

The new synchronization infrastructure is more fail save. You should not have any synchronization errors anymore.

Random resets of a document state are less likely to happen.

Especially under bad network conditions, synchronization was not reliable. This should now be more stable now.
Small features and improvements
More code syntax highlighting: Code syntax highlighting is now available for Ruby, Haskell, and for diffs. (March 16, 2023)

Support for double-click on tab to close it. (March 16, 2023)

Better object picker: Object picker now have a shortcut to create new elements. (March 16, 2023)

Icon filter now also supports "is empty" and "is not empty". (March 27, 2023)

Export title as H1: Markdown exports now include an option to add the title of a note as heading 1. (March 11, 2023)

Fixed: "–>" will not be transformed into a toggle anymore. (March 11, 2023)

Fixed: Date picker did not open reliably for some properties (March 4, 2023)

Improved: Deactivated current version of CSV import, as it was not working reliably. We will re-enable it in the future. (March 4, 2023)
Create a studio for
your

mind.
Stay updated
Subscribe to our newsletter so you won't miss out. We will send you updates via email about Capacities and the space of personal knowledge management.
We will use your email address for sending you our newsletter. You can change your mind at any time by clicking the unsubscribe link in the footer of any email you receive from us. For more information see our
Privacy Statement.