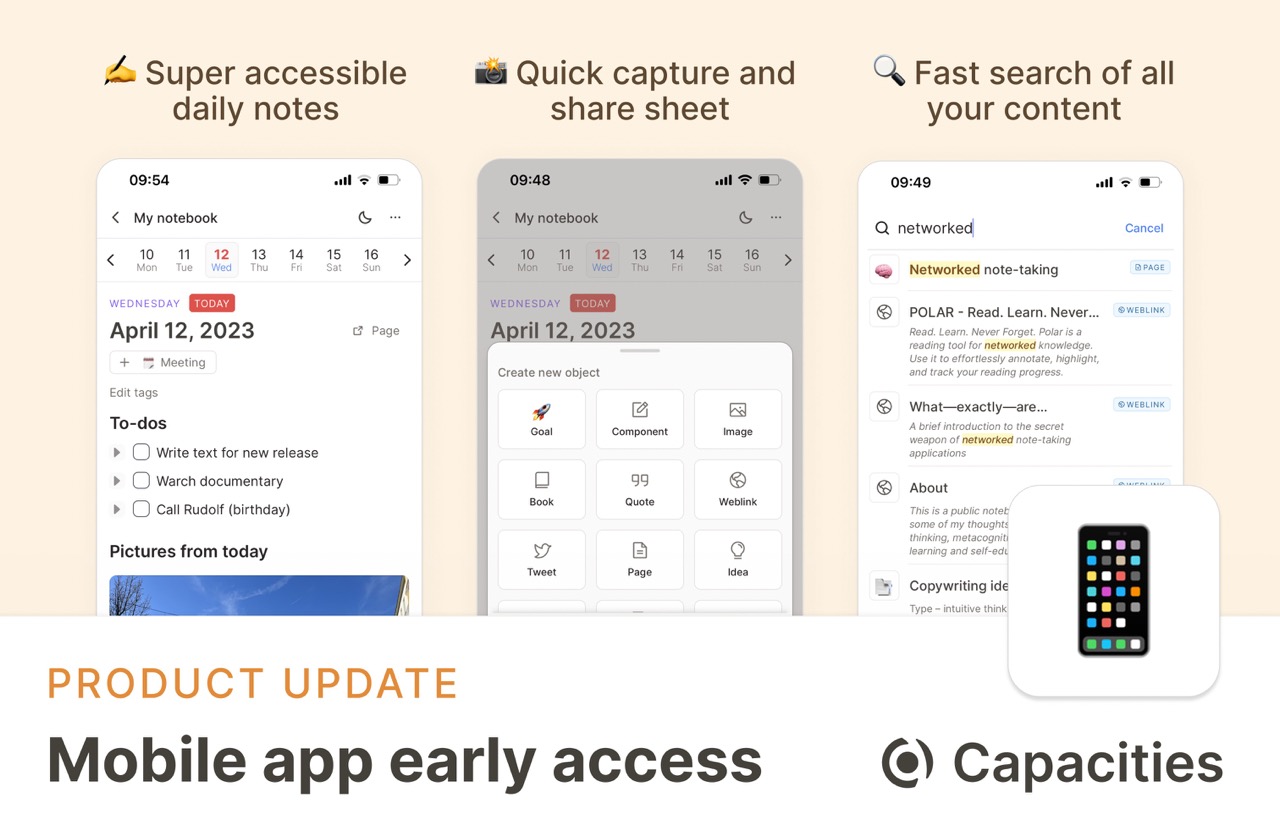 We are super excited to share that our mobile app is in early access for all believers! 🥳🔥
We think it will change how you use Capacities and we absolutely love it. And so do our test users:
It looks and works so beautiful
I am blown away by the quality of the app for being an alpha
We developed a mobile-first concept to really focus on the crucial workflows for mobile devices. ➡️📱⬅️
For us, this includes
fast access to daily notes to quickly write stuff down
quick capture for media and content, including stuff from other apps via the share sheet
a fast search and browsing experience for all your content
The app is available for iOS and Android. 🍎🤖
How to get early access
If you want to try it out, you can become a believer here: https://capacities.io/believer
Here are the steps to join the test group: 👇️
If you become a new believer, you'll receive an email with precise instructions on how to join.
If you already are a believer, you can find instructions here: https://capacities.io/believer-features
What's next
The mobile app is still in the alpha stage, and many things might still change. Currently, we're continuously improving and fine-tuning it. Thanks to our test users, we've already added many improvements and fixes, and we're always open to suggestions. 🚀🙏
One known limitation is the text editor on Android, which is not working smoothly yet, but we are working on a fix for that. ☝️ℹ️
What's after the alpha
After intensive polishing and fixing, we aim to release the mobile app for everyone around May or June. 🗓️🛣️
We want to thank those who've helped us focus on the core features of the mobile app with their ideas in the concept phase. The community played a crucial part here! 🚀💪
Get involved
If you want to become involved in discussions around the product and share your ideas, you're more than welcome to join our Discord community: https://discord.gg/am6QkhShWH
And we also want to say thanks for all the feedback and suggestions we've received from users testing the app right now. 🙏
Create a studio for
your

mind.