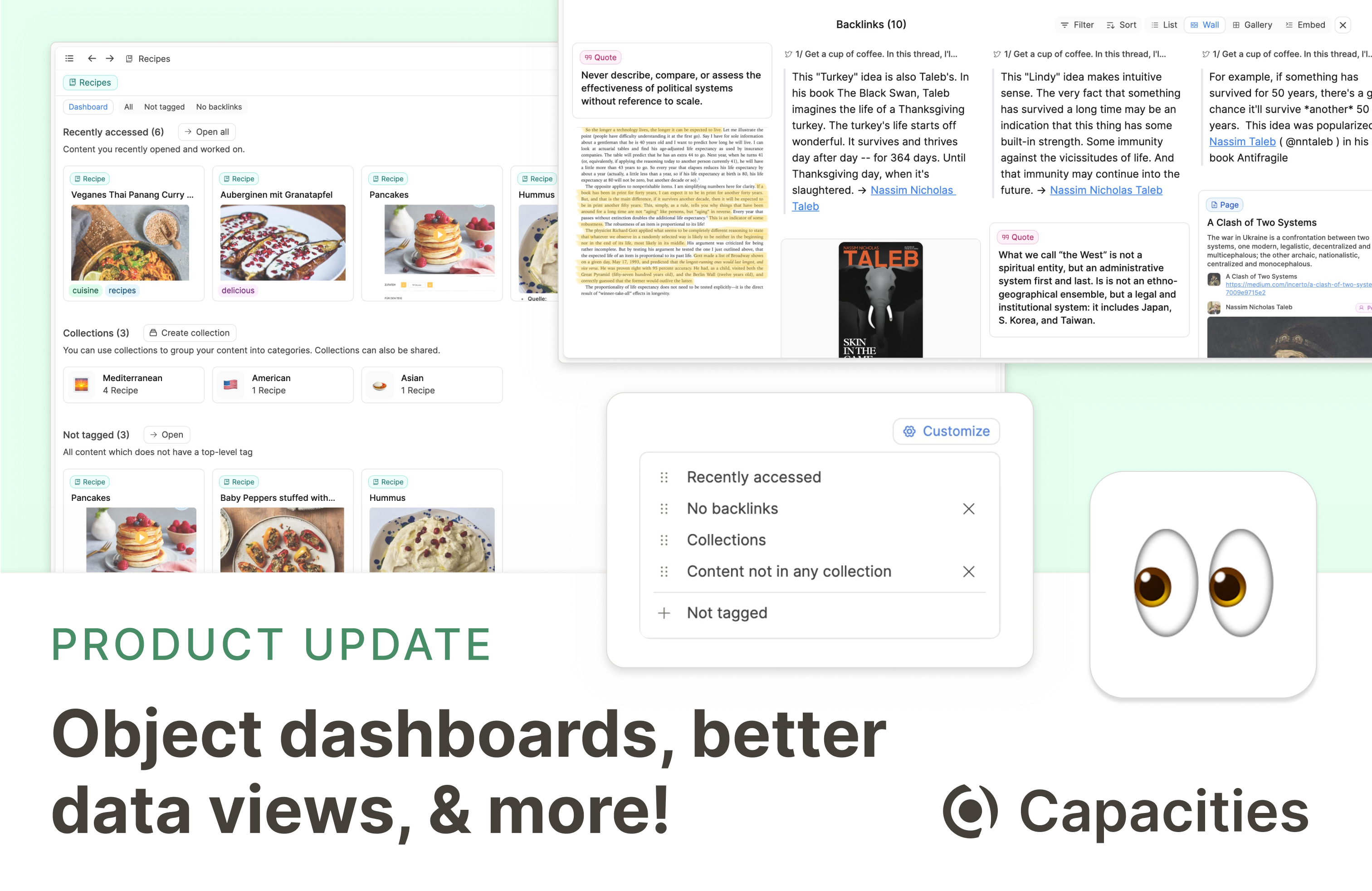 We are super excited about this release. It's packed with many important features and improvements. Let's dive in. 🚀
New object dashboard
Objects are like little apps in your studio. "People" are different from "meetings", and there will be other workflows associated with them. So with this release, we're introducing a customizable dashboard for your objects.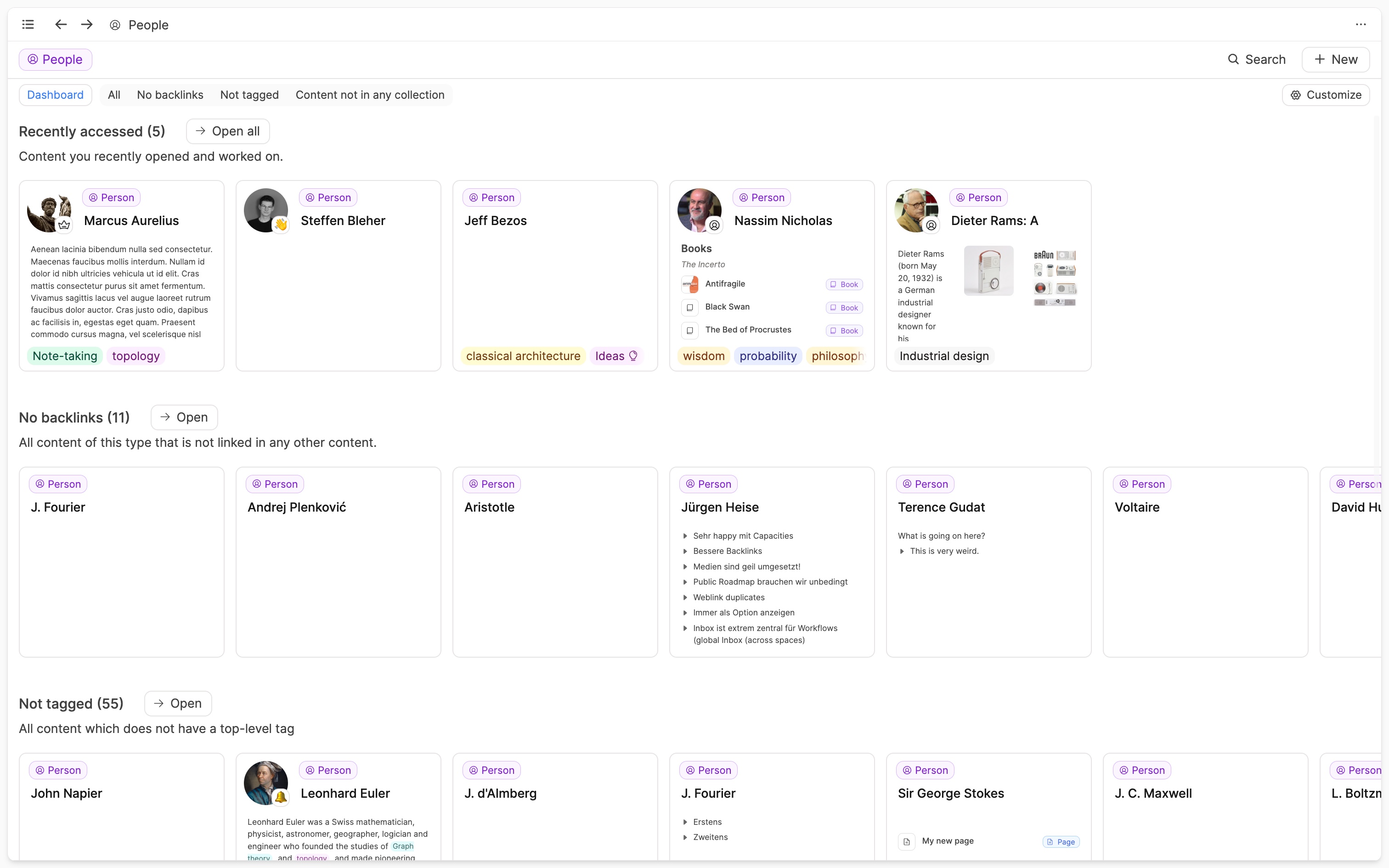 In the dashboard of an object type, you can now select from different sections and rearrange them the way you want. At the moment, we offer the following options:
All objects: All objects of that type
Recently used: Objects of that type that you opened recently
Not in a collection: All content that you did not sort into any collection
Not tagged: Content that does not have a top-level tag
Not linked (orphans): All content you did not link in any other content (sometimes referred to as orphans)
You can select them using the "Customize" button in the top right, where you can pick new sections and rearrange them.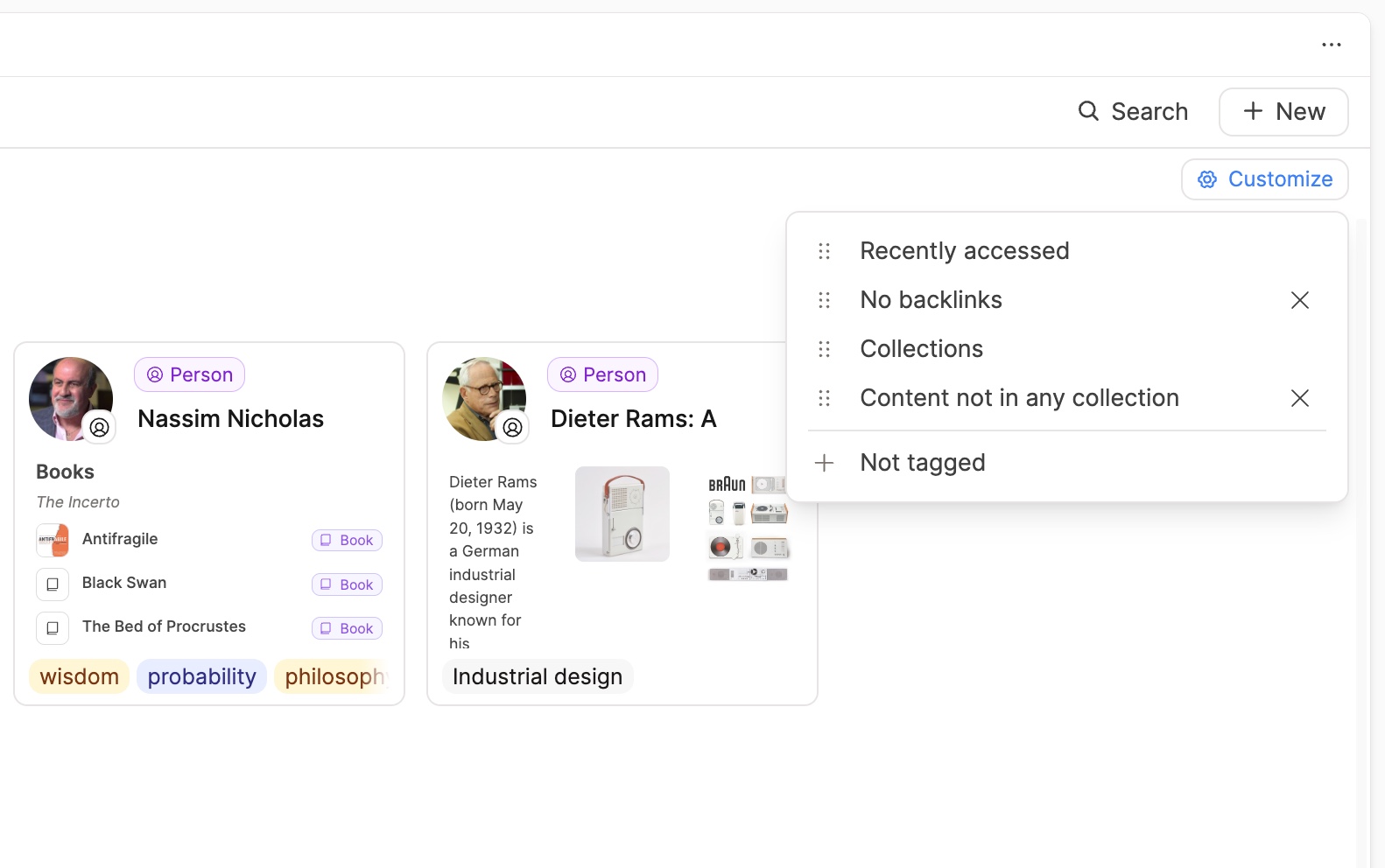 Mobile support of object dashboard
With this update, the object dashboard will also be available on mobile. You can browse your custom sections, and you also get access to the "All content" view.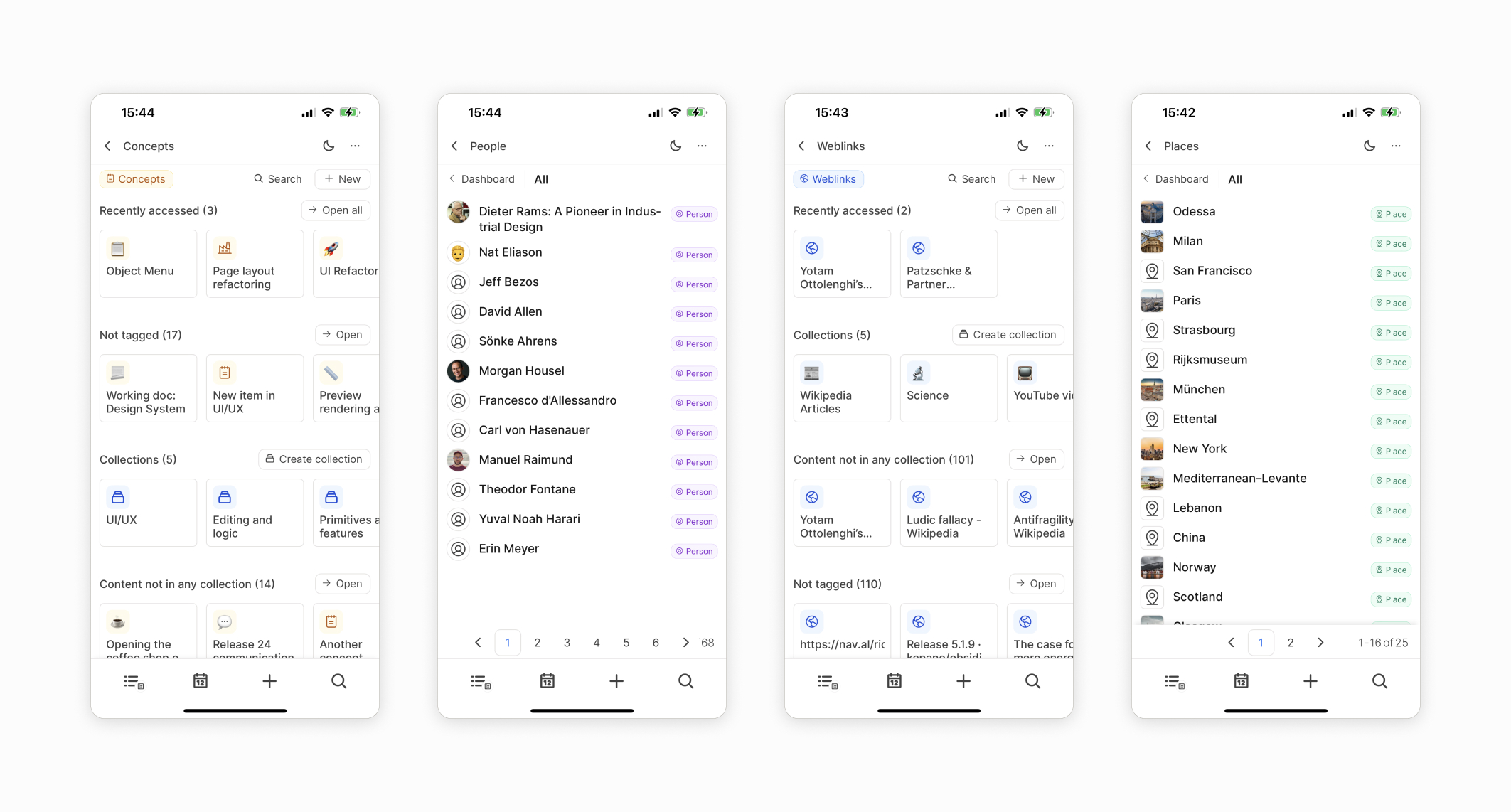 Hint to future updates
Soon we will add queries to Capacities which will become an integral part of your dashboards as well. In addition, they will allow you to create custom sections for your objects with rules based on your workflows.
Together with queries, bulk operations are also coming to Capacities soon! This will finally allow you to select multiple items in a data view and perform actions on them. We are super excited about this and can't wait to share more soon.
Customizable backlink sections
Backlinks are not only a simple list of mentions. Often they are an integral part of an object. With this update, we are releasing customizable backlink views.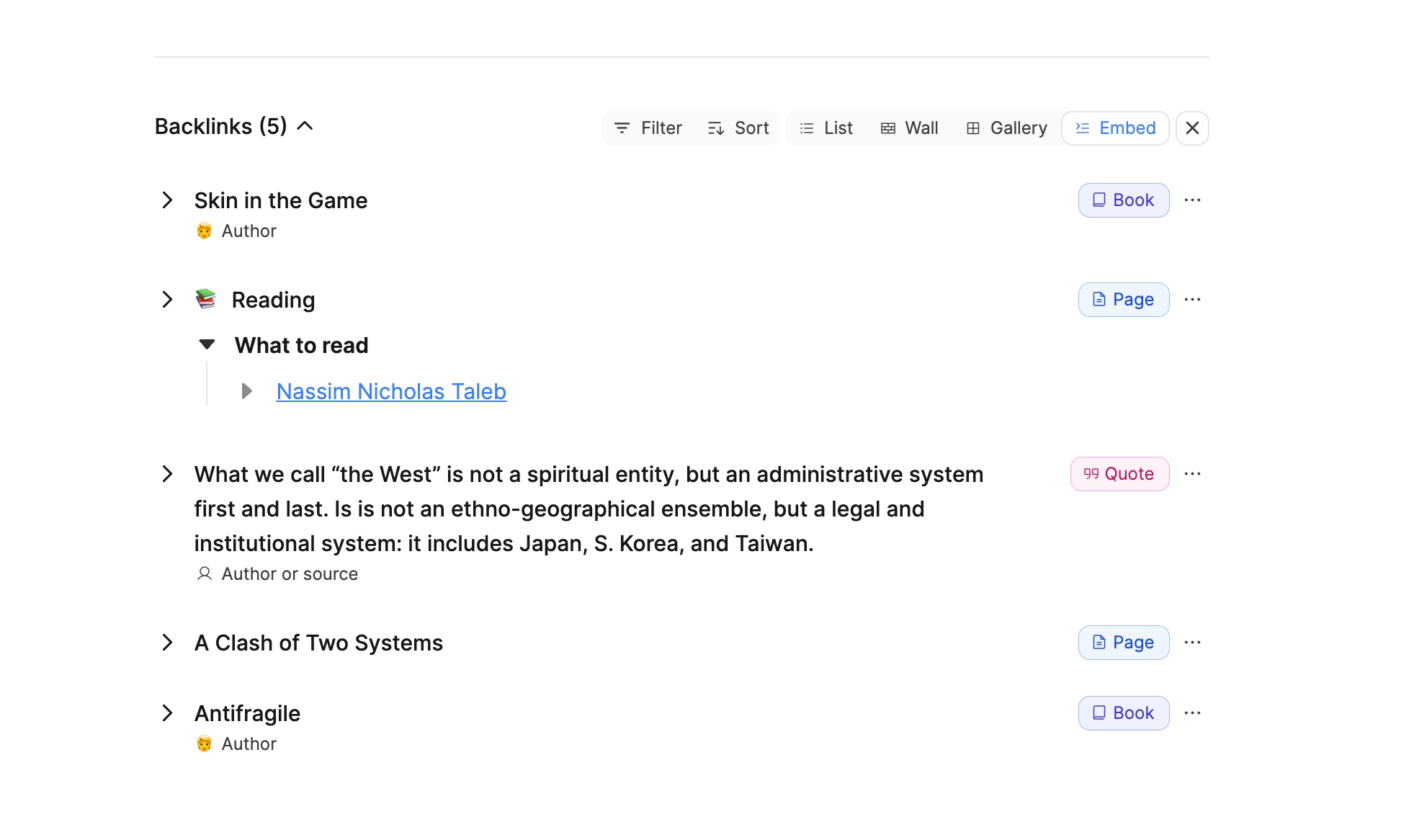 You can pick a view for your objects and filter and sort them if needed. If you pick a view in a template, it will be applied to all objects that you create from this template.
This is an example of the backlink section customized to use the list view…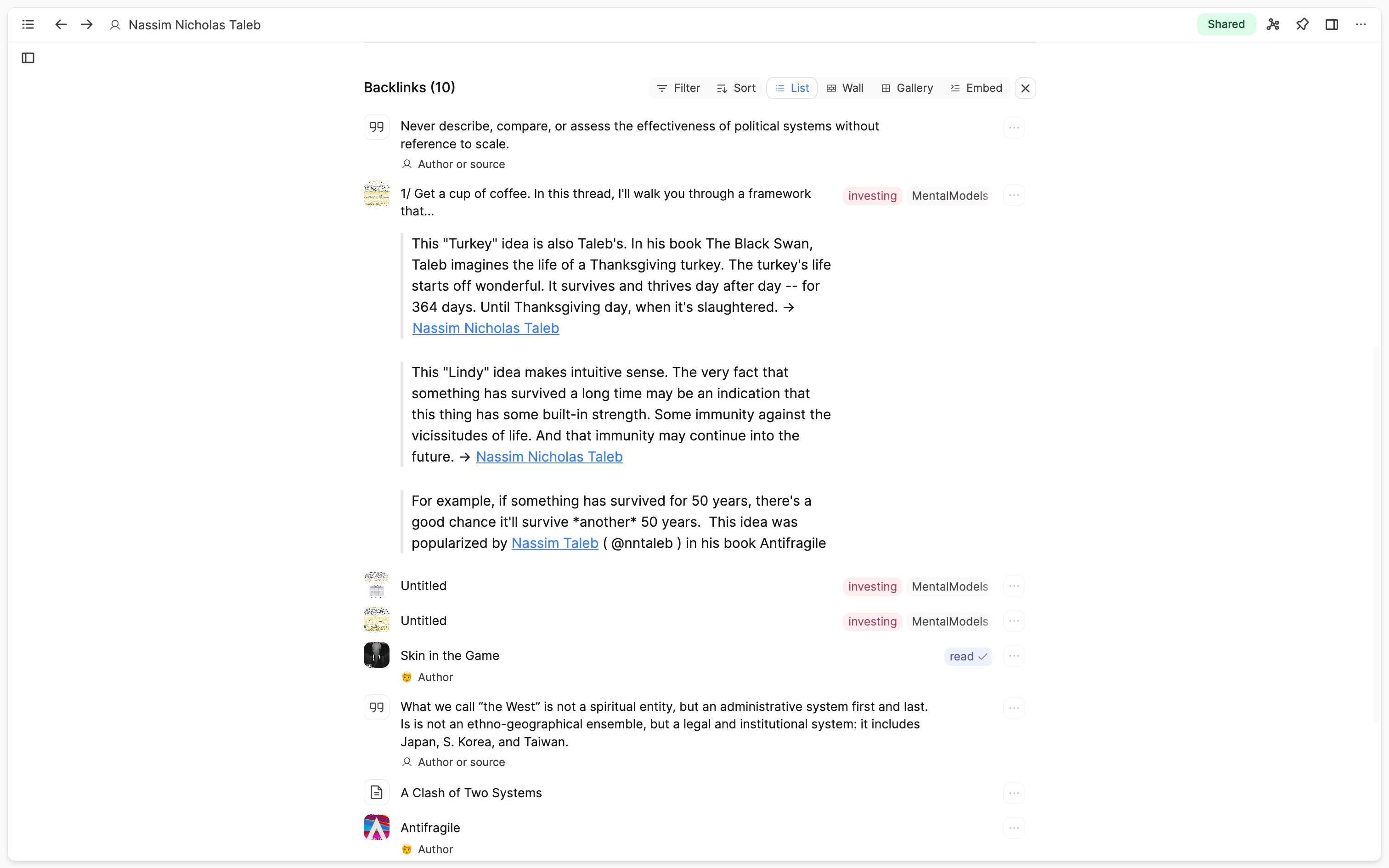 … or the wall view. This view makes it very similar to a tag page. So you can use it to create a "Related content" section for your objects similar to tags.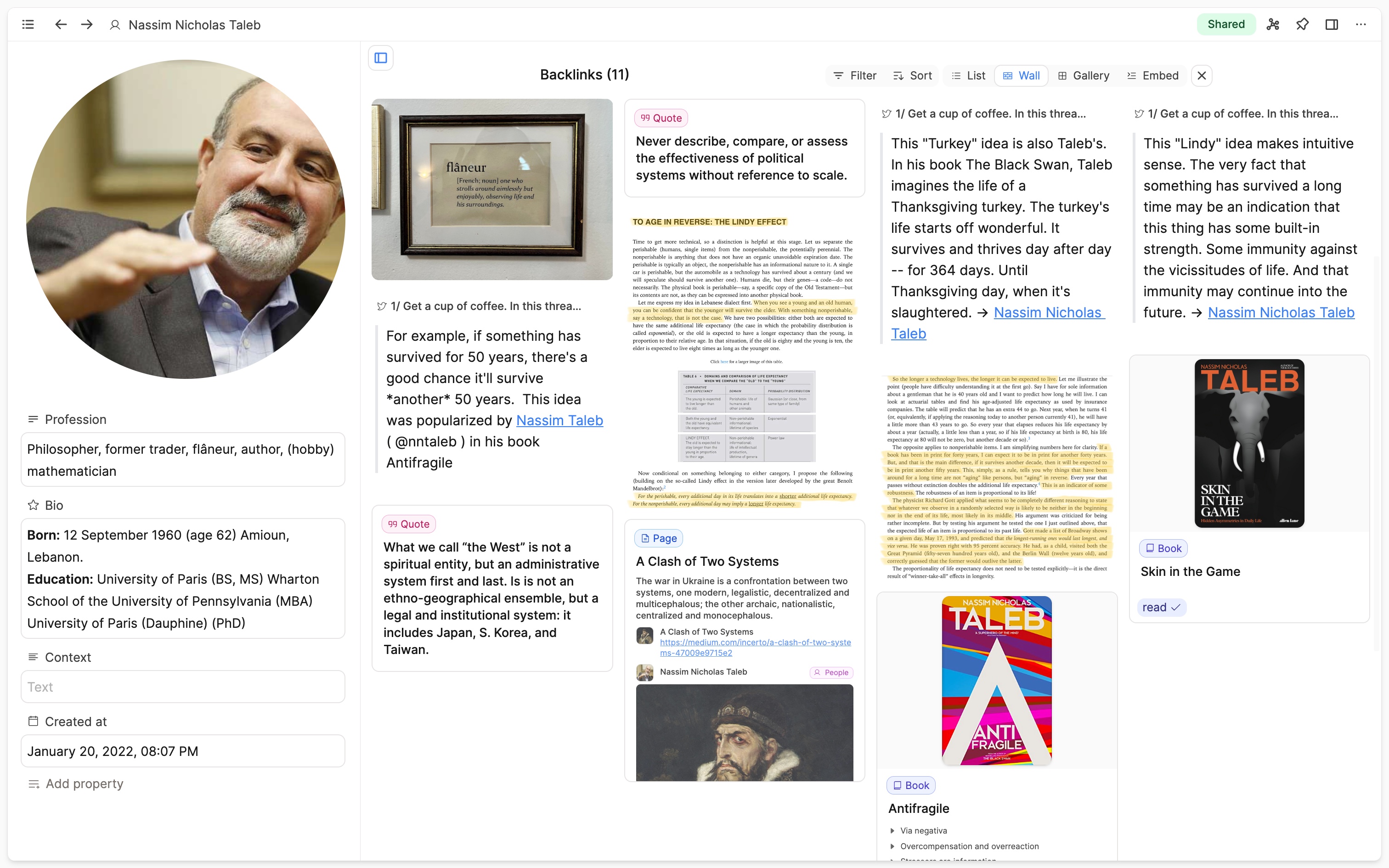 "Embed" layout option for tags
You can now also display your tags like your backlinks on a page where individual items are displayed as an embed with a toggle.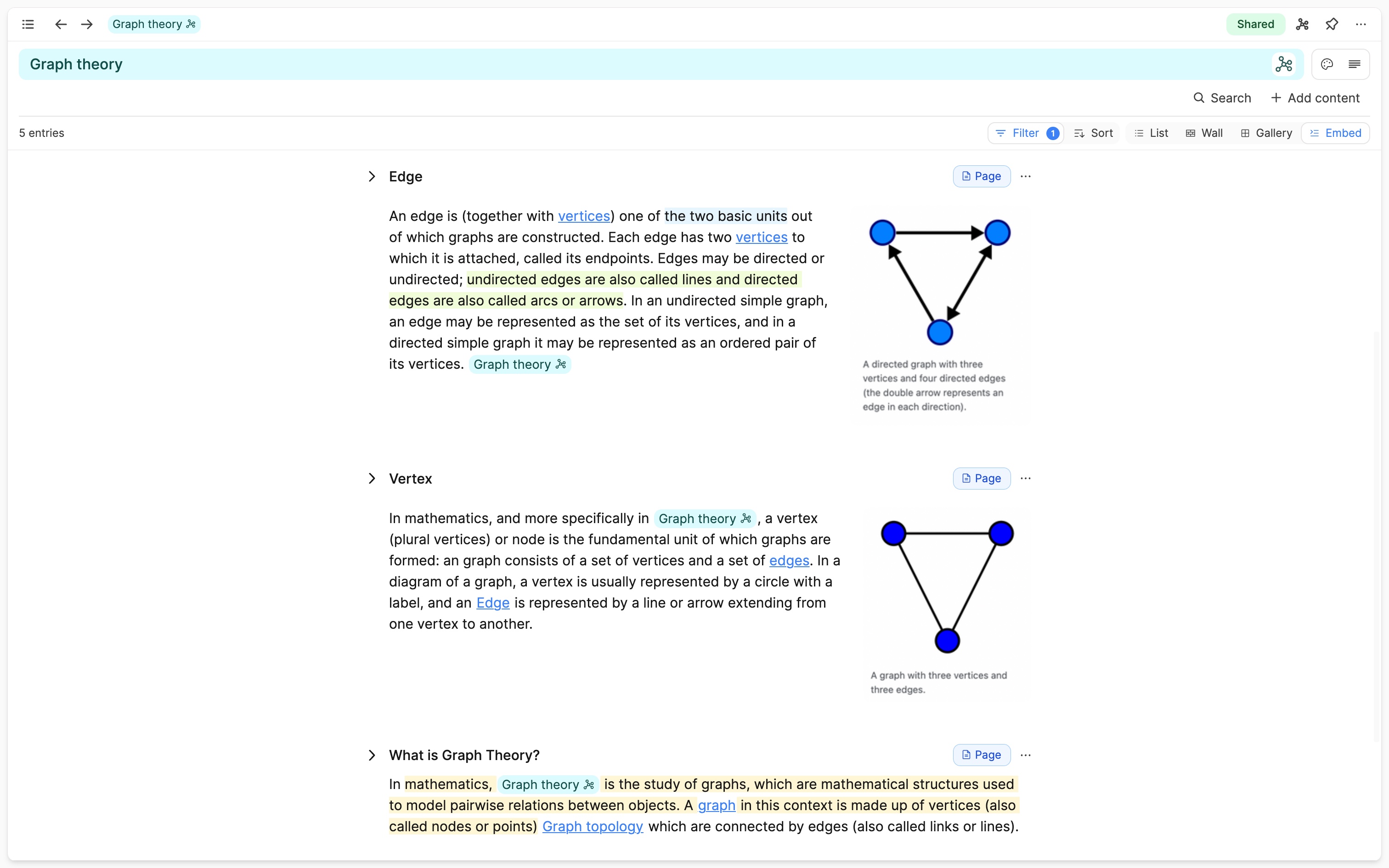 A cleaner calendar
The new calendar is much simpler. We separated the timeline from content created on a day.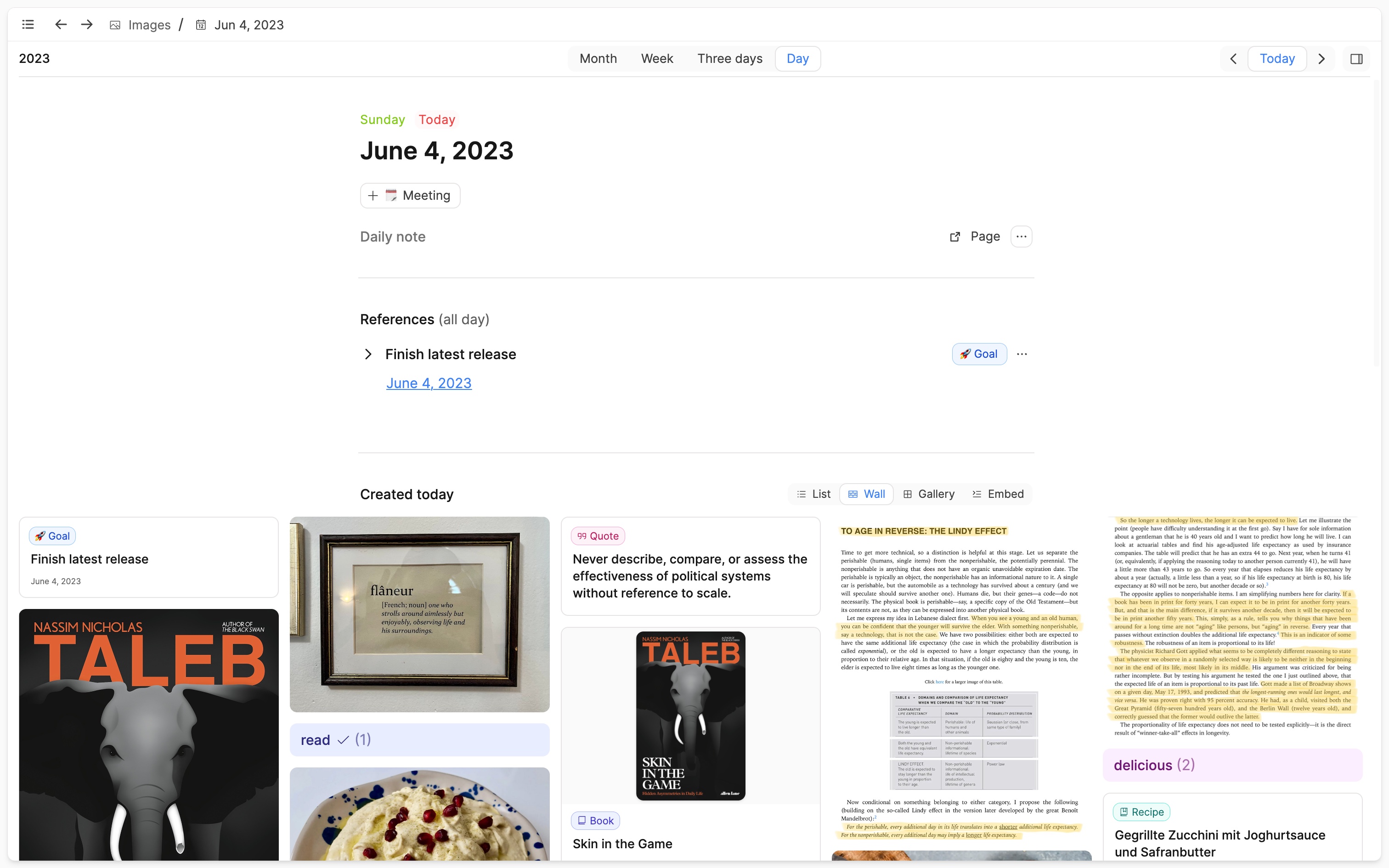 You now get three separate sections that you can hide and customize to your workflows. The "Created on this day" section is even more visual now, and you can pick your preferred view for it (list, wall, gallery, or embed).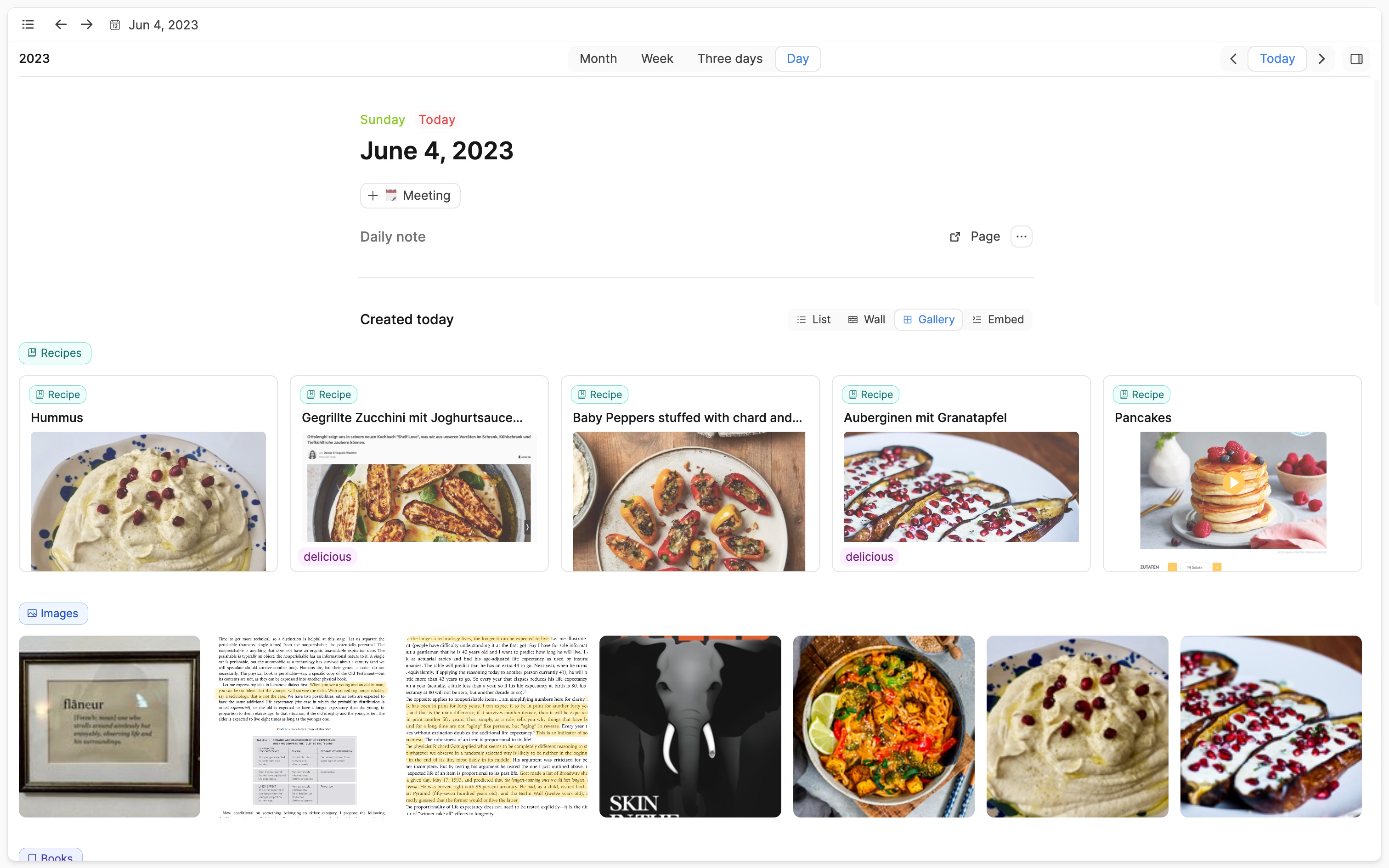 Performance and loading improvements
Under the hood, we reworked how content is loaded in different views. You will especially notice this when you load large views like the "All content" view of an object with many entries. In the next weeks, we have many improvements planned, which should speed up the application, especially if you have a lot of content in Capacities.
Better search
Based on feedback in our community, we were working on the search experience. You can now also search for snippets in your text which are not at the start of the word. You can, for example, search for "linking" and will find "cross-linking" as well. Furthermore, you can also search for infixes in your title. A Search for "kasten" will match "Zettelkasten".
Create content in Capacities from outside the application
We are opening up Capacities to allow more and more actions from outside the app. We are happy to release that we're now supporting the "Hook to new" feature of Hookmark. It allows you to quickly capture a web link or a link to any other application without leaving it.
For developers: We opened a "Create new object" callback. It allows you to add content to Capacities from outside the app. You can read more about it in our developer documentation.
Better link handling
If you paste links to Capacities, you will now be asked what you want to do.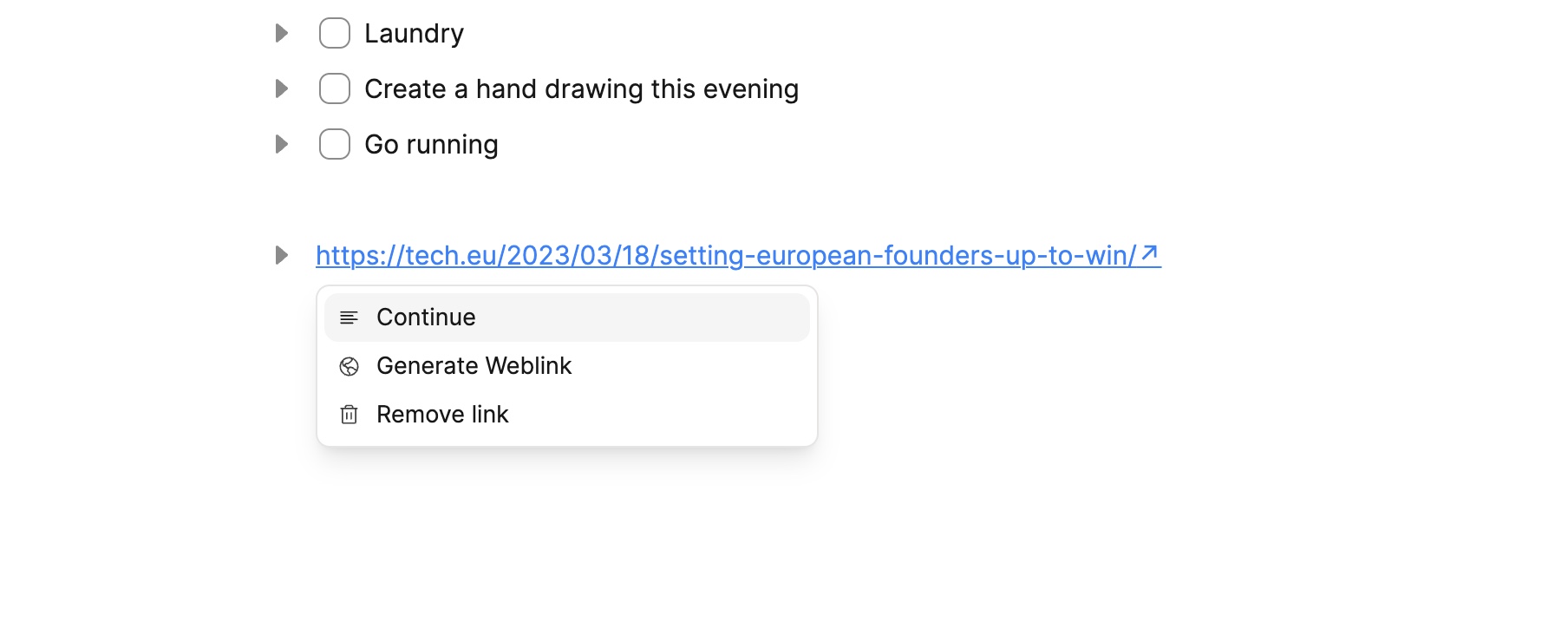 You can:
Continue: This only creates an inline link to the URL
Generate Weblink: Create a weblink object which will be stored as an object in Capacities. If you paste a link at the start of a block, this option allows you to embed a website in Capacities. You can do this by clicking on the three dots in the top right of the web link object and selecting "Embed view".
Remove link: This option allows you to paste the link as plain text.
In addition, you can now paste a link on a selected text range to create an inline link with the selected text as the link text.


Capacities will launch on Product Hunt soon!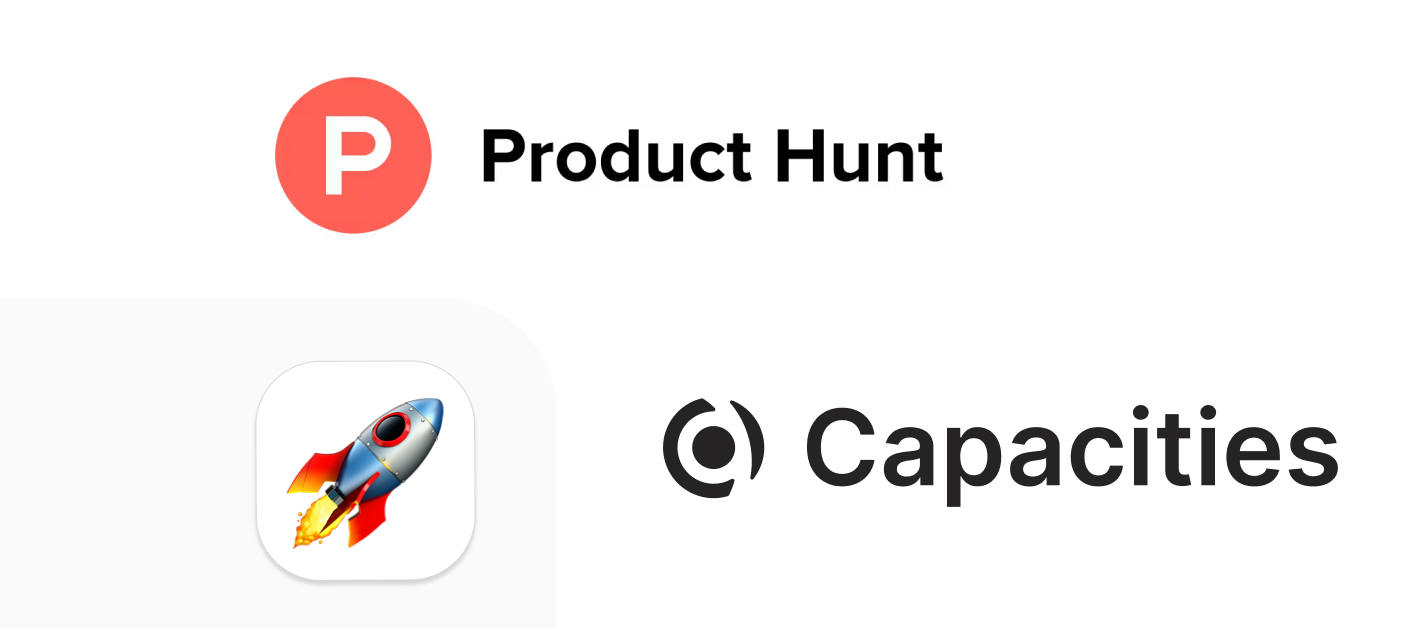 We plan to launch Capacities on Product Hunt in a couple of weeks. If you want to support us and give feedback on launch day, now is a great time to create a profile on Product Hunt or reactivate your existing profile and engage with some cool products. We are asking you to do this because Product Hunt treats feedback from active accounts way more favorably and gives them orders of magnitude higher relevance.
We'll let you know when we plan to launch and send you another reminder on the day we launch. It would be great if you could provide feedback for Capacities on Product Hunt on launch day! Your support and feedback here would be so much appreciated!
What's next for Capacities?
There was a lot of discussion about different upcoming features and speculations about what will be next at Capacities in our community. 🤔
We published a "What's next" paper on our landing page. It's an overview of what we think is important right now and in the near future. We're also sharing some insights on how we plan to operate.
You can read our paper here.
Small features and improvements
New "Editor" section in settings: We've created a new section for editor-related settings. As a first option you can now disable the native spellchecker that underlines misspelled words in red.

Additional shortcut to move blocks up/down on the same level: If you also press shift when moving blocks up and down, they will stay on the same level. This can be faster when you only want to change the order of some high-level blocks in a nested outline without having to move them all the way through the outline.

Duplicate objects from objects menu: You can now quickly duplicate an object by using the "…" menu in the top right.

Markdown shortcuts for inline code and code block: You can create inline code by wrapping text in backticks (`), and create code blocks, starting a new block with three backticks (```) and a space.

Better and more transparent delete handling of objects: You now get an overview of what will be deleted when you delete a whole object type.

Searchable documentation: You can now use Cmd + K on Mac and Ctrl + K on Windows to search our documentation.

Today indicator for date properties: You can now see if a date is today in a date property.

Feedback button in the app: You can now quickly access the feedback board from the app.

Improved: better template loading across devices

Improved: Code blocks will be focused when created.

Fixed: Linking using the text bar now works as expected.
A small note
Some users experience random freezing of the Capacities app. This often happens when pasting content into Capacities. We are working on a fix and hope to release it soon. If you experience this, we'd appreciate it if you could share as many details as possible here. Sharing a screenshot of the developer console can really help.
Create a studio for
your

mind.
Stay updated
Subscribe to our newsletter so you won't miss out. We will send you updates via email about Capacities and the space of personal knowledge management.
We will use your email address for sending you our newsletter. You can change your mind at any time by clicking the unsubscribe link in the footer of any email you receive from us. For more information see our
Privacy Statement.